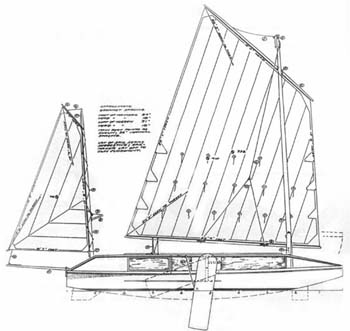 Whalewatcher
Phil Bolger's Whalewatcher, designed for the Chesapeake on the Birdwatcher principle: raised, windowed sides that give the boat knockdown recovery with no water aboard. Unlike Birdwatcher, this boat has a large comfortable cockpit outside the cabin, and excellent outboard auxiliary setup. Sitting headroom for tall persons on four setee berths, ample galley and storage space. Open standing room from cockpit to foremast. A huge balance-lug rig that is bound to be fast and easy to handle. You are almost shoulder deep between the cabin-tops when amidships in this spacious, comfortable boat. A canvas cover would snap on over the standing-room in rain. I get a great sense of anticipated pleasure when I'm in this unfinished boat. How much anybody else would love it would depend quite a lot on how much you mind, as Phil Bolger puts it, "the derision of the bystanders.

It is a fair question whether we should build the hull entirely new, from scratch. It has never had its tabernacle, leeboards, mizzen partners, or Lexan windows, even though sails and spars and even lines and rigging are on hand. Surely an all-new hull would give the better result. But on the other hand, there is much value here, and the shortest and least expensive distance to a sailing trial and a usable boat is through rolling the boat and giving it a 2/3 new double-plywood bottom, and finishing it.

Or we could do that and end up with a roomy outboard cruiser, sell that, and then go on to build a new Whalewatcher in addition. I'm inclined to do something with this outfit and would love to do it with or for a customer.