Finished Micro




This is a Bolger Micro, a trailer-sailer with a shallow ballast keel, which gives the boat great stability and leaves the cuddy completely clear of obstruction. I acquired this boat nearly new but without its spars, sails, or keel, without some of its flotation, and with a companionway and hatch not according to plan. I have built the keel, with 420 lbs of lead in it, made a new hatch and slide, put in the flotation, provided spars, and had Douglas Fowler make new sails.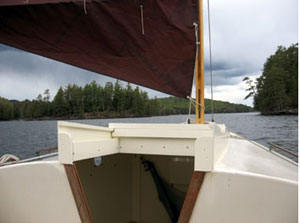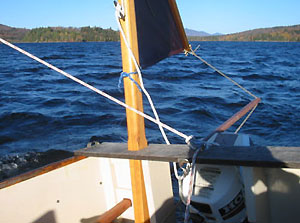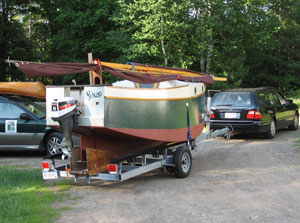 Moreover, I put a drop-axle on the trailer, lowering the trailer frame a full 8", so now this boat launches and retrieves as easily and shallowly as the centerboard and leeboard Bolger sailboats I have had. It floats on and off the trailer just before my car's rear wheels touch the water. These boats have been built all over the world. The sailing shot below is of a Micro sailing in South Australia. The shot of my daughter cutting up an apple in the cabin is meant to suggest how roomy the cabin is, with sitting headroom for tall people on two long wide berths, ample space between, and no obstructions. Boat comes with an 8-horse Honda 4-stroke running perfectly.The boat is now more completely detailed than in these photos, with mahogany rub-rails and toe-rails on the cabin and a wider, thicker side-molding. It has a brand new eight-sided mast and newly varnished spars. I think the boat would be a good deal at $7000, less than half the cost of building and equipping a new one, but Bolgeristos are cheapskates and DIYers like me, and nobody will pay that much. We like the boat so much, and use it on Lake Champlain and Lake Ontario as well as lakes around home, it will be hard to part with, but I'll sell it for $4000 unless I sell the unfinished one first.

I've now added a good winter cover using the Kover Klamps system, $450 extra.